What can we do for you?
1) Good quality guarantee (2 years).
2) Competitive Price (Factory direct price).
3) Agent service in all the world.
4) On time delivery .
5) We offer sample for free.
6) Professional Technology .
7) Quality Control through the whole Manufacturing process.
a. Check the material before the production .
b. Have the random inspection during the production .

Product Description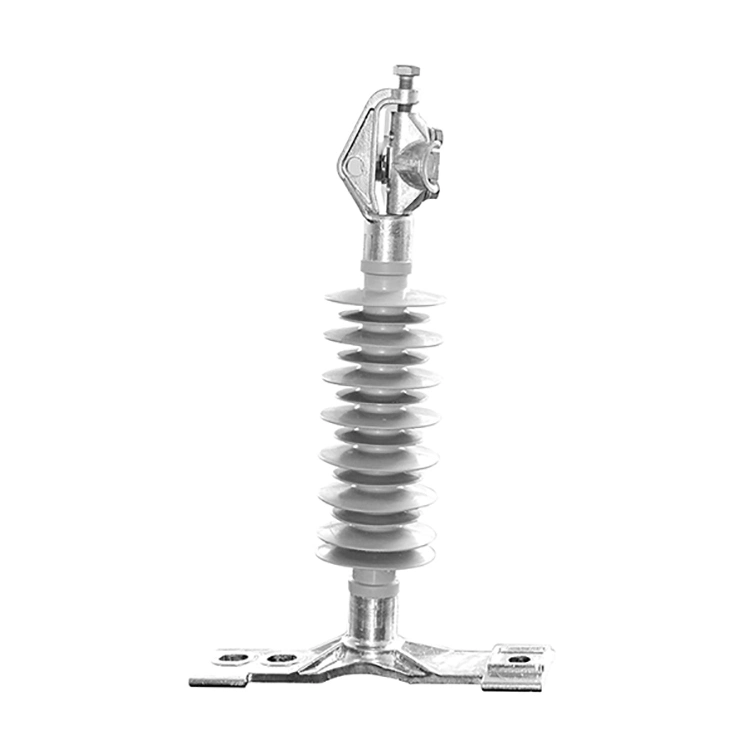 Composite insulators have the advantages of light weight, small size, convenient transportation and installation, high mechanical strength and good pollution resistance. At the same time, they can avoid cleaning and preventive testing during operation. They can avoid pollution flashover accident. Especially suitable for use in urban power grids and polluted areas above the medium level.

Basic data
Product

Model

Rated

Voltage

(kV)

Rated

mechanical

bending

load

(kN)

Structure

Height

H.(mm)

Minimum

Arc

distance

Li.(mm)

Min.creepage

distance

Lc.(mm)

Diameter

of

shed

D.(mm)

Lightning

impulse

withstand

voltage

(peak)

(kV)

P.F.Imin wet

withstand

voltage

(Virtual value)

(kV)

FZS-11/10

11

10

220

135

300

100/90

95

45

FZS-15/12.5

11

12.5

285

170

600

138/118

105

50

FZS-25/12.5

25

12.5

450

320

700

138

125

65

FZS-35/12.5

35

12.5

580

405

1650

150/120

265

135

FZS-69/12.5

69

12.5

780

630

1950

215/165

350

150
Our product are fully comply with the standard such as IEC, BS, ANSI and other well recognized standard and requirement.
We strongly believe in the importance of maintaining high quality in all our products. We have brought in
advanced quality tests as to ensure strict quality control before delivery. We have adopted advanced date
management system to monitor and to supervise all individual process through our whole production lines
of the product with traceabledata in details and recorded at all level.
We are the manufacturer that is special in insulators, zinc oxide varistors, surge arresters, dropout fuse, air
break switch, load break switch, isolator switch, line hardwire, ABC cable accessories, meter box and so on.
We also have a professional team with 15 years of experience and also offer OEM&ODM service.
If you are interested in our products, please feel free to Contact with us, we will try our best to meet your
demand. We are seeking sole agent in all the world, we wish we can grow and develop together with you.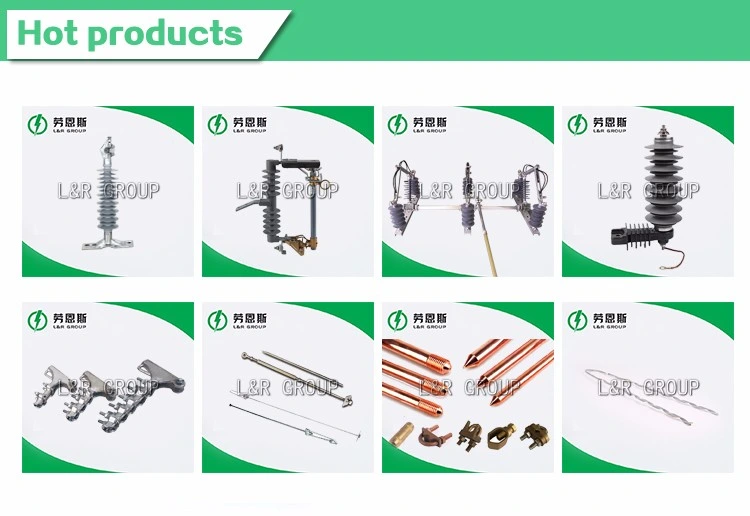 There are FOUR companies in L&R group, ZHEJIANG LAWRENCE ELECTRIC CO., LTD, that main produce line hardware, cable
accessories and etc, JIANGXI LAWRENCE ELECTRIC CO.,LTD main produce guy grip, switch, and etc, ZHONGRUI ELECTRIC
COMPANY main produce insulators, surge arrester, dropout fuse and etc, YEUQING L&R IMP&EXP CO.,LTD is the international sale center.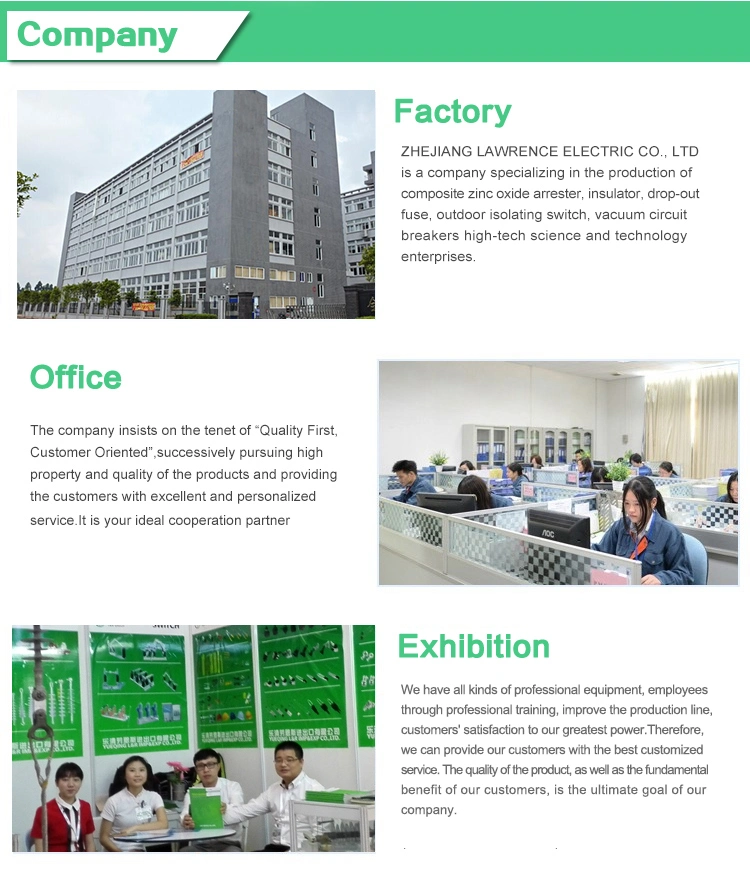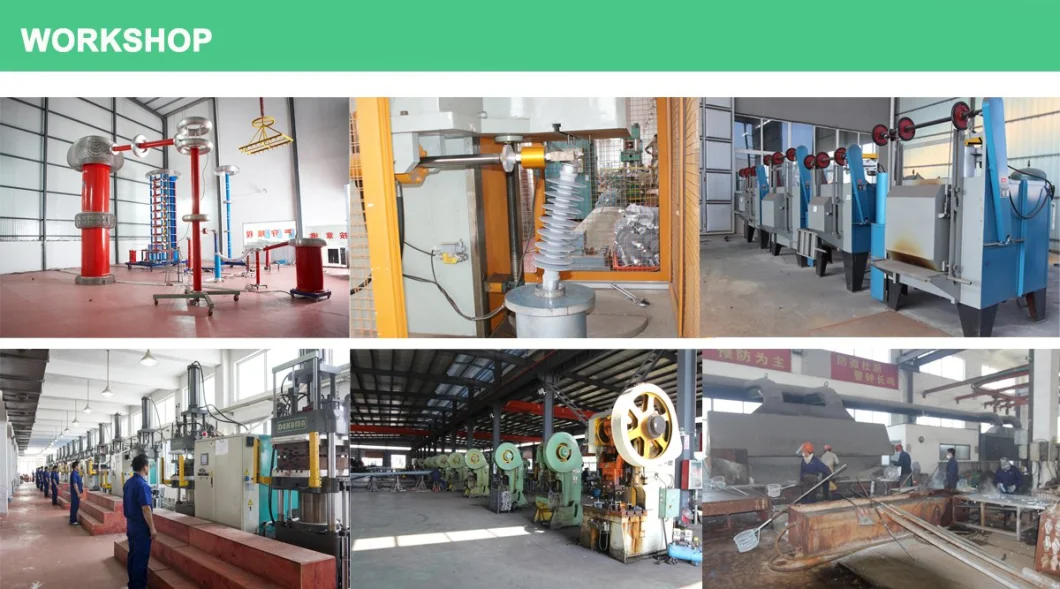 Our customers

Our products have being in service on electrical networks of more than more than 20 countries from 2005.
We had supplied our products and services to the below customers:
CHINESE STATE GRID,KENYA KPLC & REA,UGANDA REA & UMEME,TANZANIA TANESCO,GHANA ECG,SOUTH AFRICA
ESKOM & ARB,NIGERIAL NEPA,COTE D'IVOIRE CIENERGIES,JORDAN EDCO & NEPCO,OMAN PDO,VIETNAM EVN,MEXICO
IUSA,ECUADOR CELEC,NEPAL NEA,......….


Here, We look forward to your joining.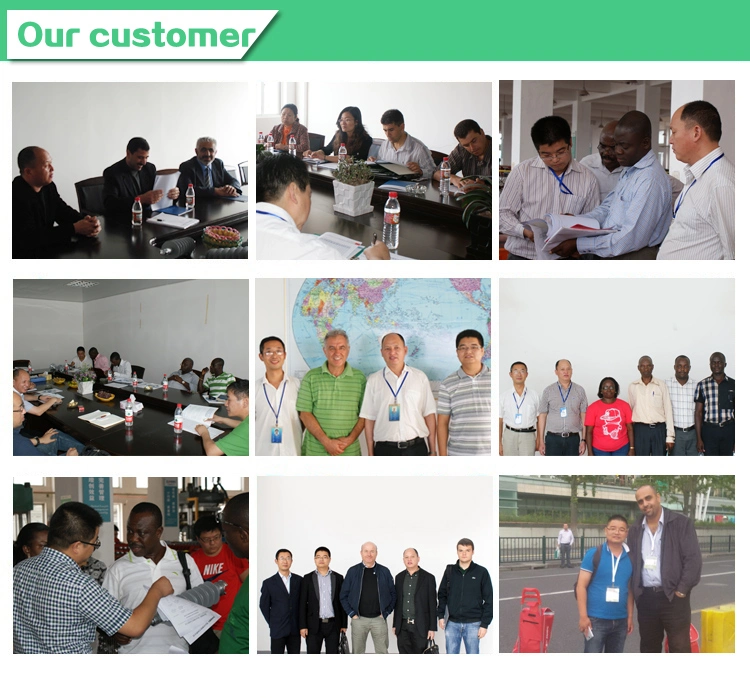 Our factory had obtained ISO9001, ISO14001, OHSAS 18001, and almost of our products had been tested by
CNAS certificated Laboratory, for example KEMA, Chinese National Lab, and etc.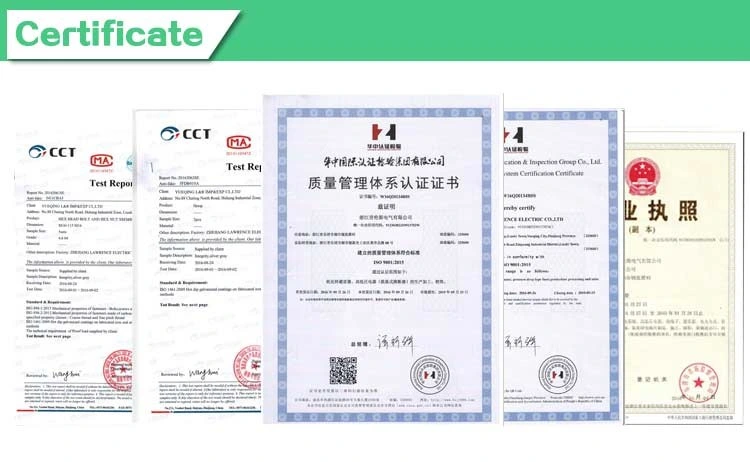 PACKAGE:
1.We will make packing with customers'logo, details please contact us
Each product is packed with good quality package (wooden pallet, wooden box, and etc), completely protect products be damaged on transit.
SHIPPING AND PAYMENTS
1 Express Air shipment and Sea shipment as customers'request
2 The ordered materials could be shipped in 15-30 working days after received PO depends on the quantity of the order.
3 The documents or samples could be shipped by Fedex,TNT,DHL and others, depending on size and weight of total order.
4 Putting the customer's needs first.
5 On call,24 hours a day,7 days a week.

FAQ:
1. Q: Do you have a catalogue? Can you send me the catalogue to have a check of all your products?
A: Yes, We have product catalogue. Please contact us online or send an Email to sending the catalogue.


2. Q: I need your price list of all your products, do you have a price list ?
A: We do not have a price list of all of our products. Because we have so many items, and it is impossible to mark all of their price on a list. And the price are always changing because of the producing and raw material cost. If you want to check any price of our products, please feel free to contact us. We will send offer to you soon!

3. Q: I can't find the product on your catalogue, can you make this product for me?
A: Our catalogue shows most of our products, but not all. So just let us know what product do you need. If we do not have it, we can also design and make a new mould to produce it. For your reference, making an ordinary mould will take about 20-30 days